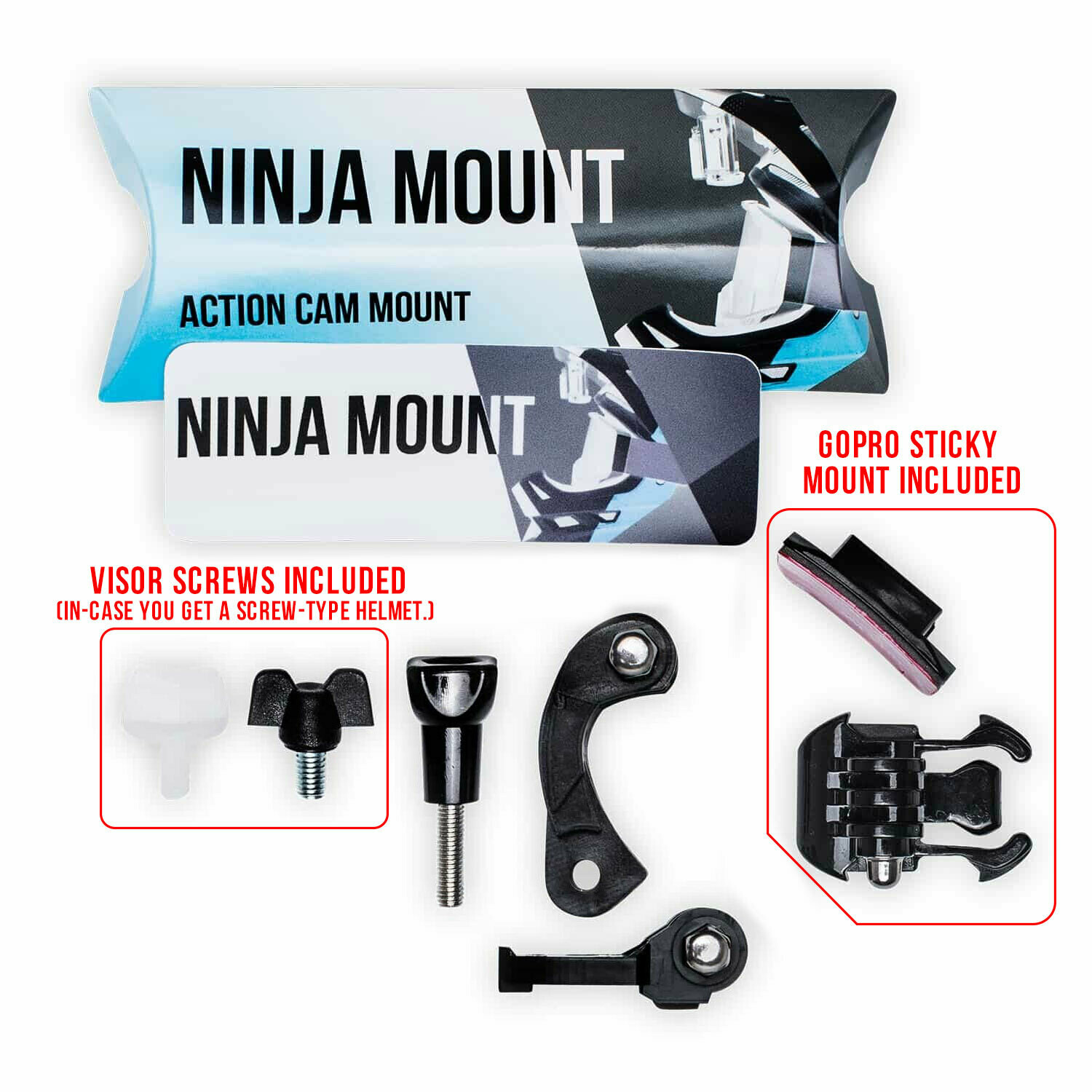 NINJA MOUNT- Sticky Mount (For Helmets WITHOUT a middle screw under the visor)
SKU Ninja-StickyMount
Product Details
Ride Handsome is proud to be the the first and only U.S. distributor for NINJA MOUNT! This is the big pack – for all of those who own a full face helmet WITHOUT a screw thread under the visor. This kit includes everything the standard kit has PLUS a Gopro sticky mount.
(Helmet and action cam / housing not included).
NINJA MOUNT IS AN ACTION CAM MOUNT FOR FULL FACE HELMETS. SUCCESSFULLY FUNDED WITH KICKSTARTER.
You're a downhill, motocross or ATV rider? When you mount your action cam on top of your full face helmet, a part of the visor is always visible in the shot. And doesn't it look ridiculous to wear the cam on top of your helmet? NINJA MOUNT is a great alternative for you. If your helmet has a screw thread, please view the Standard model which does NOT include the curved adhesive pad.
(NINJA MOUNT is patented. Helmet and action cam / housing not included. To prevent face injuries in case of a crash, always use goggles. We highly recommend a goggle with high impact lenses.)
NINJA MOUNT is made of high quality plastic material (PA GF30) using injection moulding – and its special parts are made in Germany.
ADVANTAGES OF NINJA MOUNT
Free sight: No visor in the way. The screw allows you to adjust the angle so you can define the field of view precisely
Great look: Installing the cam under the visor looks much better than wearing it on top of the helmet. #RideNinja, don't #RideTeletubby
Better feeling: Lower center of gravity
Protects your cam: The action cam is mounted safely and is protected against dirt, tree strokes and crashes
Removable: You can dismount it any time and mount it on another helmet
NINJA MOUNT BIG PACK VERSION: COMPATIBLE HELMETS
This package nearly fits each fullface helmet that has no screw thread under the visor. For example:
ONEAL Backflip / Fury / Spark / Warp / 2SERIES – 10SERIES / MOTO XXX / SIERRA
Bell Full-9 / Transfer-9 / Super / Super DH
Urge Down-o-matic
Bluegrass Brave
TSG Advance
Leatt DBX 3.0 Enduro
POC Coron
Giro Switchblade
661 Reset
COMPATIBLE ACTION CAMS
GoPro Hero / Hero3 / Hero4 / Hero5 / Hero6 / Hero7 / Hero8 / Hero9 / Session / Session5
Garmin VIRB Ultra 30 / VIRB XE
Rollei 430 / 425 / 415 / 300 PLUS
Xiaomi Yi / 4K
Sony unfortunately not!
CONTENT OF THE PACKAGE
Special adapter, pivot arm, short thumb screw, plastic screw, metal screw, curved adhesive pad
Installation guide
NINJA MOUNT sticker


Save this product for later